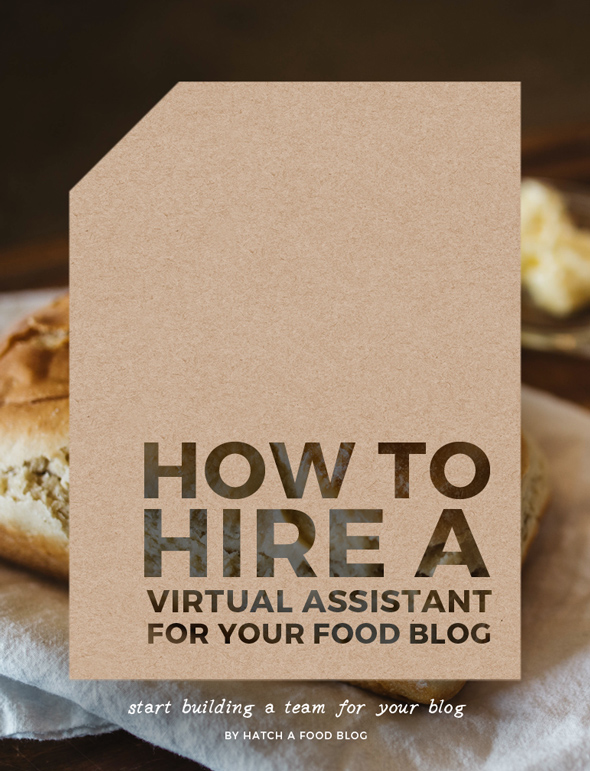 Hiring a virtual assistant reduced my workload by 50%.
Blogging is gruelling marathon. There are so many moving parts: writing your cooking posts, photography, editing the photos, publishing your posts, managing social media accounts, fine tuning monetization methods…. I could go on.
As your blog grows, your time becomes more valuable. You need to start thinking more like a business owner. Priority should be on the highest valued tasks – and for a food blog that is creating recipe posts.
Going From Blogger To Manager
It is scary handing over parts of your blog to someone else. It was a big mind shift for me. I couldn't just wake up and start working anymore. I had to plan out the workday/workweek for more than 1 person. You go from writer/blogger to manager.
In this post I go over all the things I've learned hiring my virtual assistant:
How can a virtual assistant help a food blogger
My story: What I used my virtual assistant for
How much do they cost
Where to find and hire one
And how to select and manage them
   WHERE TO FIND A VIRTUAL ASSISTANT   
OnlineJobs.ph is the place to get yourself a Virtual Assistant for your food blog. Starting from $250 a month, you can find yourself a virtual assistant that will work for your FULL TIME. It costs $49 a month to use the website, but once you have found your assistant, you no longer need the membership and can cancel it.
How Can An Online Virtual Assistant Help a Food Blogger
What you have your Virtual Assistant (VA) do for you doesn't have to be limited to your food blog. If you are planning a holiday, or need to buy gardening equipment, you can always ask your VA to do the research for you. They have Skype, so they can even field phone calls.
Here is a list of the kind of tasks you can ask your Virtual Assistant to do for you and your food blog:
Graphic design work – Pinterest images, formatting photos to upload
Submit to recipe submission sites
Managing and posting to Facebook, Pinterest, and Instagram
Uploading posts to your blog
Doing research work if you need any
Analysing your stats
Reaching out to other bloggers
My Story: 50% Reduction
I was able to reduce my workload by 50% when I hired my virtual assistant. This let me focus on just creating content.
There are 2 main areas that I put my Virtual Assistant on. 1) Graphic design, and 2) Uploading my posts.
I created a specific graphic image template for my posts. These are the images that are at the top of a post and get spread on Pinterest. My VA can now take my photos and create this image.
Uploading my posts to my blog took quite some time. I would write in Microsoft Word, and then log into my blog and publish it through WordPress. Fast forward – now once I've finished writing I send the word document and the photos, and my VA does the graphic design work and the uploading. And while he is doing that I can move onto the next post.
Those are the two areas I've got my VA focusing on.
Needing A Different Mindset
It sounds easy – asking someone else to do what you are doing. But it does take some skill.
I mentioned above how your mindset needs to change – going from a blogger to a manager.
I had to take a step back, and focus on my VA's productivity. At first I found this annoying. Instead of working on my blog, I had to manage another person. But after a while you can see that the productivity and output of the blog is greater.
I had to take a lot of time upfront to get things running smoothly. You might think that uploading a blog post is a simple thing to do. And it is for you, uploading and formatting the post just the way you want it. But now it is time to hand that over to someone else.
I wrote 2 long guides (aka instruction manuals). One for how to edit and create my header images. And the other on how to publish the posts and format them just the way I like it.
Here are some things that were included in my guides to my VA: What size the photos need to be, that there needs to be the Pinterest button code under each image, that anything underlined in the Word Doc is a link, what image to use for the Feature image, etc.
But the good thing about spending the time to write these guides, is that you will always have them on hand. Say one day you need to train someone else, you just send them the guides.
How Much Does a Virtual Assistant Cost
The price for a virtual administrative assistant varies greatly. You can hire a virtual assistant from the US, or over in the Philippines. They all have different experience levels, and skill sets.
I hired my VA from the Philippines. The cost of living over there is very low, which means you can hire a well educated VA for a low price.
Yes it would be convenient to hire someone on home soil. But how great is it to wake up and see that work has been done on your blog as you've been sleeping. And you can't beat the price.
A virtual assistant from the Philippines can start from $250 a month. And that is full time. Yes, full time. That is pretty cheap. 
More experienced VAs with better English will cost more – around $350-500 a month.
How To Find and Select a Virtual Assistant
My main criteria when selecting my VA was:
Price
That they knew how to use Photoshop
And they knew how to use WordPress
Since I wanted to keep costs down, I went with a $250 a month VA. I knew their English wouldn't be the best (still really good though), so I would have to be patient and spell out my instruction extremely clearly. The VA I went with knew Photoshop and WordPress.
Finding Your Virtual Assistant
I used Online Jobs Philippines. It costs $49 a month to use the website, but you can stop your membership before the first month is over after finding your Virtual Personal Assistant. So it will just cost you $49 to find a list of virtual assistants.
Most people will put up a job posting, and list out what requirements they need: "Wordpress", "Photoshop".
I went another route. I just searched for "Photoshop" and looked for people with good profiles (that included WordPress), and were in the right price range. I then messaged them.
Here are the messages I sent out to the top people I found:
Hi Jan,
I am looking for someone who will be able to:
1) create photo layouts in photoshop
2) and post to a WordPress website
What hours, from monday to friday would you be able to work (Filipino time)
Regards,
Jacob
—
Helo Jacob,
I am interested of this opportunity.
I can work from monday to friday ph time. 7:00AM to 3:00PM. 8 hours a day and 40 hours per week
looking forward to your response.
Jan
—
Hi Jan,
So I am talking to a few people about the position right now.
I have a budget of $250 per month.
If I choose you, we can do a test for 1 week. And then move forward from there.
Would you be able to start on Thursday?
Let me know if that is alright with you,
Regards,
Jacob
I had about 3 people in mind for the job. I chose to go with the person who could work full time, had a better grasp of English than the others (from the email exchanges), and a solid profile.
And in my emails, you can see how I said we'd do a test of 1 week. If the first person I tried had a hard time following simple instructions, I would of then moved on quickly to the next VA on my list. Luckily I didn't need to do that as I found the best virtual assistant on my first try.
How To Manage A Virtual Assistant
Since I was paying the lower end of the price range for my VA, I knew I needed to keep my expectations low at the beginning. I would need to train them so they could do what I needed done.
I needed to be patient.
I needed to spell everything out, and you can't assume anything. You also need to be careful of your wording when giving instructions online. Because something can be taken in many different ways.
I let my new VA know that it was ok to make mistakes while training. And if they ever get stuck, to just move on and keep working, and we will fix things as we get going. I emphasised to keep working. Because I didn't want the VA to waste a day, because they got stuck on one little thing.
I would always blame myself in the beginning. This comes back to being patient, and giving very specific and clear instructions. If they made a mistake, I would say to myself "I did not explain it clearly enough". You then have to try and explain it in a different way.
Keep in mind that a lot of these people will be living in small towns in the Philippines. They have a lot of Typhoons/Hurricanes, and the WiFi is generally reliable. Maybe once in every 2 month my VA would have a problem with internet, and I was ok with it. You'll be able to tell if they are just making excuses. I've never had a problem with that.
Pay them on time. It is usually good if they can be paid twice a month. I paid my Virtual Assistant through PayPal. And pay for the first week when you are testing them out.
Getting Started: How To Hire a Virtual Assistant
Get signed up with OnlineJobs.ph
And either start looking for Virtual Assistants using search (which is what I did), or post a job listing.