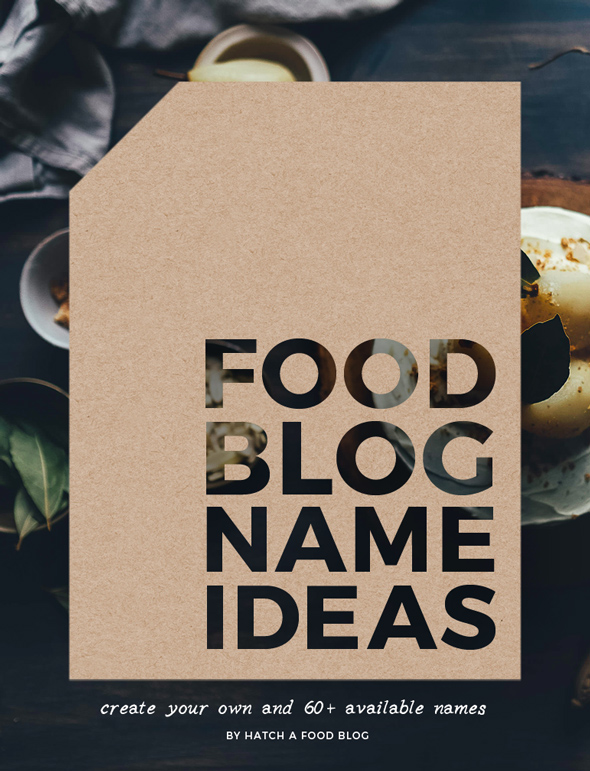 The hardest thing to do when starting a food blog is coming up with a name.
You want it to be catchy and memorable, and it also needs to be available as a .com. Some people get completely stuck and end up not starting their blog because of it.
That is why I've created this guide on how to come up with creative and tasty food blog name ideas. I will also show you how to find out if the name you've created is available to register as a .com.
Once you have your blog name, then head over to Bluehost to sign up for a hosting account. Click the green 'Get Started Now' button, then select the 'Basic' plan and you'll be able to register your .com for free.
Brainstorming Creative Food Blog Name Ideas: The Basic Steps
In this guide you will go through 4 main steps:
Writing out the vision for your blog

Selecting words or phrases from your vision

Hitting the thesaurus, and creating a word list

Mixing and matching to find name ideas
How To Name a Food Blog
Step 1: Writing Out Your Vision
The first thing you need to do is to write a paragraph about your vision for your blog. Here are some questions to ask yourself and answer:
What do you want your food blog to be about. Try and get specific (what kind of food will you be cooking, what type of ingredients will you be using, and how will you be cooking).
Who you are, and what makes you different
Why do you want to start this food blog
Here are three examples of people who have written their vision for their new blog:
Example #1: I'd like to start a food blog about my journey with sweets! I work in a candy shop specializing in making large batches of candy of all kinds, ie peanut brittle, chocolates, and fudge. I make food at work in a copper kettle, and I use a lot of cream in my cooking. I want to focus on recipes that are healthy, but with a little sweet taste to it, whether it be sugar or some kind of fruit.
 –
Example #2: I find recipes in magazines, cookbooks, facebook, other blogs, pinterest, etc, and I try them out – e.g. The Best enchiladas ever!!! And I make them and I think… these are not the best enchiladas ever, and I alter the recipe to make them better 😉 So I think i'm kind of "snobby" when it comes to other peoples recipes 😉

I love to cook, and I do love to share recipes and pics of food with friends via social media. But when I do, pretty much every time I include the link to the recipe I say, "But I omitted this and changed this" or "next time, I definitely would change this". I hate clicking on a recipe that says "Best ever" or "perfect" or "ultimate". I always think I can tailor it to make it a bit different, fit my tastes more, or make it easier to prepare.
 –
Example #3: My blog is going to be a food blog where the recipes are inspired by movies. So throughout the blog I will review movies, and create a dish based on the movie. I am a graphic design major in college taking a food blogging class.
The more you write, the easier it will be to create your blog name. Just keep asking your self questions (who, what, where, when, why, how) – like "how will I be cooking: on the stove, using the oven, BBQ". Or is their a specific time or meal you'd like to be blogging about (when) – dinner time, family gatherings, etc.
Getting specific about your food blog will help create a memorable blog (and name). But it doesn't mean you can't go outside of the topic once in a while.
Step 2: Selecting Words or Phrases From Your Vision
To start brainstorming name ideas for your cooking blog, take a look at the paragraph you have just written – your vision. Now select words or phrases that describe your new blog, and what makes it different.
So from example #1, this is what I would pick out:
Journey With Sweets
Candy Shop
Batches of Candy
Peanut Brittle / Chocolates / Fudge
Copper Kettle
Cream
Little Sweet Taste
Sugar and Fruit
From example #2:
Make Recipes Better
Snobby
Altering Recipes
Tweak
Tailor
From example #3:
Recipes Inspired by Movies
Reviewing Movies
Dishes Based on Movies
Some phrases and word combinations from the vision paragraphs are good enough to be clever blog names: Journey With Sweets, Sugar and Fruit, Little Sweet Taste, Altering Recipes.
Step 3: Hitting The Thesaurus, And Creating a Word List
The thesaurus is my best friend when coming up with naming ideas.
Once you have got your list of words or phrases from your vision paragraph, start entering some of the words into the thesaurus and see what pops out.
Sweet: Honeyed, Candy Coated, Bonbon, Pudding
Tailor: Modify, Convert, Harmonize, Remodel, Refashioned, Recooked
Movie: Cinema, Flick, Film, Screenplay
Try and come up with a long list of words and phrases. Even put some of the words you find from the thesaurus back into the thersaurus to find more words.
Think about what other words or ways can describe the word you've selected – yellow=sunshine, fresh=seeds, vegetables=market, garden.
Step 4: Mixing and Matching
Now that you have a list of words relating to the kind of food and cooking blog that you want to start, it is time to start creating fun blog name ideas.
First you can start mixing and matching the words together you have on your list. From example #1: you get a few ideas such as Copper Kettle Cream, Little Sweet Fudge.
See if you get any good ideas from doing that.
Once you have done that, then start mixing and matching words from your list, with general cooking/food/kitchen words.
Below I've created a list of food and kitchen related words that you can use to mix and match your list with to come up with name ideas.
Picnic
Spoons of ________
Kitchen
Pots of _______
Plates of ______
Eatery
Market
Deli
Butcher
Farmer
Chopping Board
Table
Countertop
The _______ Table
Apron
Servings of _______
Cookbook
Dining
Flavors
Baked
Chop
Zest
Sweet / Sweetness / Sweetened _______
Honey
Coated
Seasoning
Infuse / Infusion
Salt / Pepper
Spice
Marinated
Sizzle
Veggie
Tomato
Toast
Soup
Feast
Yum
Tummy
Foodie
Delight
Taste The _______
Cravings
A Bite of _________
A Dash of ______
Specials
Secret
Heat
Pinch of _______
Better With _______
Mix and match different words, words that describe you or your blog with food related words. Be your own name ideas generator.
Here are some examples using the vision paragraphs from above:
Example#1 The Blog About Sweets:
Spoons of Copper
Spoons of Cream
Copper Wrappers
Copper Confectionery
Steam Confectionery
Copper Parlour
Copper and Cream Parlour
Copper and Cream Confectionery
Example #2 Altering Recipes:
Recipe Remodel
The Recipe Tailor
Recipe Refashion
Recipe Recooked
Recipe Reshaped
The Recipe Blender
Example #3 Recipes Based on Movies:
The Kitchen Cinema
A Kitchen Love Story
Cinema Picnics
Popcorn Kitchen
Movie Kitchen Nights
Finding More Ideas: Creative Exercises
If you have a hard time finding ideas, then you need to go back to your vision paragraph and write more.
Try and get specific with the type of blog you want to start. The more you can write, the more ideas you'll be able to come up with. Here are some questions to ask yourself (choose the questions that apply to you):
What is it about cooking that I like? Why?
What do I want to teach people? Why?
Why do I want to start a blog?
What can I offer that others can't?
What are my favourite recipes/ingredients/spices/kitchen tools? Why?
How do I like to cook (bake, using a wok, slow cook, veggie based)?
How do I like to cook, part 2 (dancing, with music, peace and quite, with others, as fast as possible, starting at the market)?
What do I feel when cooking?
When do I enjoy cooking the most (for family gatherings, for a partner, for kids)?
What do I have in my kitchen that is unique (yellow kitchen door, red apron, blue kitchen table, purple kitchen walls)?
Who inspires me to cook?
Where do you get your cooking inspiration from?
See if you can ask yourself other questions I haven't listed here (who, what, where, when, why, how).
Keeping Asking Why: Keep asking yourself "why?". For example, "How do I like to cook? I like baking. Why? Because it is relaxing, you can just leave it in the oven and wait for the house to fill with that baked smell".
How To Check If Your Best Blog Name Ideas Are Available As a .Com
Use the tool below to check to see if the name idea you've come up with is available as a .com. The name checker tool is by Bluehost, and you can use Bluehost to register a free .com when you sign up for their hosting account (go with the Basic plan). It is the same company I use to host Hatch a Food Blog.
Next Steps: Getting Started
Once you have come up with the name you want for your food blog, the next step is to register it as a .com and set up WordPress so you can start blogging.
Sign up for a hosting account, and get a free .com with Bluehost here.
If you need help signing up for your account and getting set up, head over to my next post that will show you the steps to follow: How To Start a Food Blog: Step by Step.

60+ Available .Com Food Blog Names
Here is a list of available names that you can use and register as a .com for your own food blog, restaurant, or food business.
To register one of these names as a .com sign up for a hosting account with Bluehost and you will get a .com domain name for free.
My Favorite
1. Chop Chop Soup
2. House of Tasty
3. The Fork and Spoon Love Story
4. The Runaway Pea
5. Kitchen Cheers
6. When Vegetables Meet
7. Veggies Living In The Fridge
8. Foodie Therapy
9. Footprints in Flour
10. Kitchen Closeup
11. Kitchen Jungle
12. Sizzle Sizzle Yum
13. Marinated Goodness
14. Fairytale Flavors
15. Tasty Table Delights
16. Spoons of Spices
17. Hometown Flavors
18. Dining With You
Catchy Food Blog Names
19. Flavors 101
20. Recipes of Yesterday
21. Plates of Flavor
22. The Walnut Chopping Board
23. My Kitchen Snaps
24. Home Family Feast
25. Taste The Joy
26. Kitchen Footsteps
27. The Happy Chopsticks
28. The Missing Apron
29. The Lost Chef
30. Escaped Flavors
31. The Dancing Cook
32. Golden Baking Sheets
33. Yummy Tummy Tasty
34. That Smells Delicious
35. Secret Kitchen Diaries
36. Mystery Flavors
37. A Bite of Yummy
38. Servings of Delight
39. Spice Toast
40. Kitchen Portrait
41. Cook and Dance
42. DIY Kitchen Diaries
43. Spoons of Flavor
Veggie and Organic Name Ideas
44. Fresh Farm Flavors
45. Morning Market Visits
46. Home Grown Spices
47. Summer of Flavors
48. House of Veggies
49. Get Your Soup
50. ___(your hometown)__ Salad
51. Who Wants Veggies?
52. Veggie Season
53. Going Green and Vegan
54. Vogue Veggie
55. Veggie Soupie
56. Garden Cooking Specials
57. The Chefs Salad
58. Summer Dresses and Tomatos
Indulgent Name Ideas
59. Dancing With Wine
60. Cheese and Wine Delight
61. Dancing Desserts Delights
62. Creamy Chocolate Cravings
63. Yummy Paradise
Next Steps