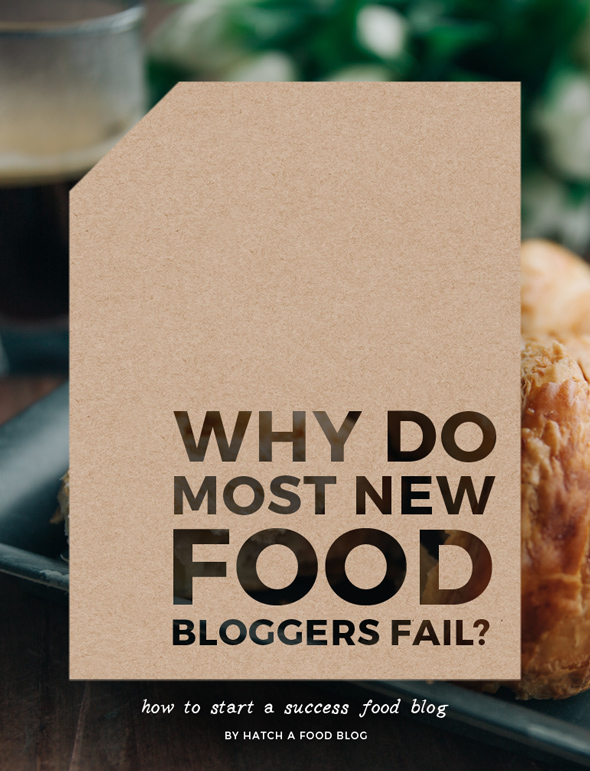 This post lists out the 6 DOs and DO NOTs to follow when starting a food blog.
I get a lot of people coming to me saying they want to start a blog, either a food blog, travel, or a fashion blog. And I'm always afraid they will make the same mistakes so many new bloggers make, that ends up in them giving up even before the first month is over.
Too many new food bloggers take blogging too casually. You need to work harder at the beginning to make sure you'll continue.
The more posts you can publish in the first month, the more likely you'll continue blogging and be a successful food blogger.
   START YOUR OWN FOOD BLOG   
For a guide on how to set up and start your own food blog, follow along with my step by step guide here.
Publishing recipes is hard work. There is a lot to do: food prep, cooking, photography, editing, and uploading.
Too many new bloggers spend too much time messing around with the design of the website, and reading more articles about how to blog. They are avoiding the hard work of publishing recipes. At the end of the month they have little to show.
At the end of the first month, you want to be able to look at your new blog and see that you have built something meaningful.
Have a Simple Plan
You need to have a plan from the beginning – this is as simple as "I will get 8 recipe posted and published in my first month". Like any new endeavour/hobby – if you don't get stuck in right away, it will fall to the side. Other things will take its place – running errands, etc.
The more posts you have on your website, the more likely you are to continue blogging.
From the list below, you can see how there are a lot more "DO NOTs" vs "DOs". This shows that there are only a few things you need to focus on to build your food blog and make it successful.
The 6 DOs and DO NOTs When Starting a Food Blog
DO NOT: Spend time tweaking and editing your website. Having a website for your blog is a fun thing to have. It makes it feel real and alive. So a lot of new bloggers spend WAY too much time editing their website – changing the colors, layout, etc. The more time spent editing a website (that nobody is visiting yet) the less time that spent on publishing. You need to get posts up, fast. The longer you delay that, the more likely you'll give up blogging. So focus on publishing posts. Check out my list of the top wordpress food blog themes. They are all well designed and simple to set up. Choose an inexpensive one, and once it is up and running just leave it and start publishing posts.
DO NOT: Keep checking stats. It's pretty cool to see how many visitors are visiting your food blog every day. It gets to a point where it feels as if your blog is alive. But as a newbie blogger, you won't have much traffic coming in at all, not enough to study in a meaningful way. It can just be distracting and demotivating. So focus on publishing posts.
DO NOT: Binge on information. It feels good to read posts about how other food bloggers are successful, what tips they have, and new strategies they are following. But all of this reading is keeping you away from publishing posts. Go on an information diet. Everything you need to know to get started and build your blog for the first few months can be found on this site. Here are the top 4 key elements you need to create a food blog:
2. Making your website look good, quickly
3. The basics of food photography
4. Where to submit your food posts and recipes to build traffic
That's all. Focus on publishing recipes
DO NOT: Try to do everything. A lot of people tell me they want to start lifestyle blogs. "It will have a little bit of food, fitness, and fashion". That is so much to do with a blog when starting out.
The problem is that people see these other lifestyle bloggers, and want to create what they have created. What they don't know is how these 'lifestyle' bloggers started their blogs. There is one very popular lifestyle blogger, who does everything from recipes, DIY, crafts, and even makes apps. What people don't know, is that she start out just blogging about scrapbooking. Now that is pretty specific. And as the years went on, she started adding more topics to her blog.
People who try to create "a lifestyle blog" from the beginning will most likely fail. The first month of blogging is so important, you need to build your blog fast so that it motivates you to keep going.
If you try and create a lifestyle blog, after your first month you could have 1-2 recipe posts, 1 fitness post, and another 2 posts about fashion. At the end of the first month, what have you really created? A bit of a mish mash of a blog – you won't feel as if you've built anything. And people visiting your site will have a tough time understanding what the blog is about.
Instead, imagine if you focused your first month on just posting food posts. And something specific, like vegetarian dishes, or spicy vegetarian dishes. At the end of the month you can look at your blog and see 8 spicy vegetarian blog posts. Each post better than the next since you've been learning and growing as a food blogger (learning how to write as a blogger, learning how to do beautiful food photography, etc.). And people who visit your blog will find it memorable.
Try to focus and get specific about the kind of food blog that you want to make. The more specific it is, the more memorable it will be for your readers. But just because you have a specific food blog, does not mean you can't go outside of the topic every now and again. Say you started a spicy vegetarian food blog. Then you will want 80% of your posts to be around that. But the other 20% can be blog posts about a nice refreshing drink, taking a trip to the market, what desserts goes well with spicy food, etc.
DO: Focus just on publishing recipes. The more recipes you post, the better the food blogger you'll be. You'll get more photography practice, you'll know what kind of recipes spread on Pinterest and submission sites. And the more posts you publish, the more likely you'll want to continue building a successful food blog.
DO: Set a goal before setting up your food blog. And make it a semi tough goal to achieve. I believe that most people can publish at least 2 recipe posts a week. So that means 8 posts in a month. This should be the bare minimum. Maybe for the first week, it can be 1 recipe post. But as you get more familiar with posting to your blog, using WordPress, and getting to grips with food photography, you should be able to get faster at creating recipes. Then push to 2 posts a week, then 3.
The first month is very important. The more posts you can get up, the more likely you'll continue blogging. So push hard to get as many posts up as possible for the first month – set a number and focus on just getting to that number. Forget about stats, your website design, and reading blogs. Get publishing.
Check out my homepage for more guides on the basics of food blogging (only the important stuff).