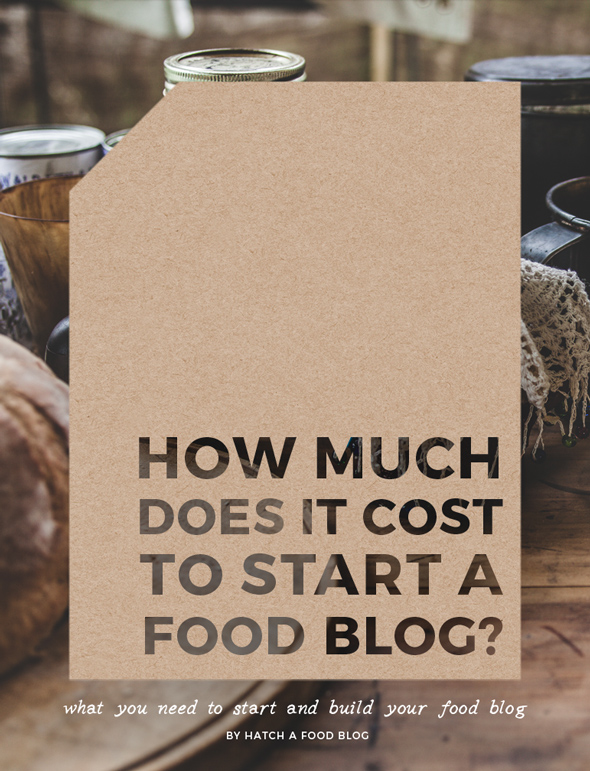 Intern, manager, and CEO. These are the labels I've attached to the different levels you go through when building and running a successful food blog. And at each level you'll need different tools to keep your food blog running smoothly.
There Are 2 Types of People
There are 2 types of beginner food bloggers in this world.
There is the person who likes to take things slowly. Learning each new thing, spending when it is needed, and then moving onto the next phase of building their blog. There are many successful food bloggers who started out this way.
Then there are the people who want to jump right in. They want to make sure their blog is looking as professional as possible from the beginning. And they have some funds to get the right tools at the start.
So when you go through this post, know that you can either jump straight in or take things slowly and build your blog over time.
Beginner AKA The Intern
Setting Up Your Food Blog
There are a few tools you'll need to get your food blog set up and running online.
Domain Name
A domain name is the online address of your food blog.
If you need help coming up with a name for your food blog, then check out my guide here: How To Create Tasty Food Blog Name Ideas: 60+ Available Names
Hosting
You'll need to find a hosting company. They will store your blog online and deliver it to people who visit your website.
Cost: Go with Bluehost, it is the one I use and recommend. They cost $3.49 a month. Like most affordable hosting companies, they charge upfront to help you save money. But if at any time you want to cancel, they will refund you for the months you haven't used.
To get your blog up and running with a .com and hosting account, follow along with my tutorial here: How To Start a Food Blog: Step by Step Guide
Theme and Logo
A WordPress theme is what makes your food blog look good. You can always go with a free theme, but these are usually quite bulky and chunky looking. There are a lot of low priced, and great looking food blog templates and themes. Check out my post to see a list of the best ones: The Best Yummy WordPress Food Blog Themes: For Recipes and Bloggers.
And while you are at it, why don't you get yourself a great looking logo and header for your food blog. This can be as easy as ordering a premade logo or get yourself a custom food blog logo – starting from $10.
Cost: Themes can be Free to $60++, and a logo can cost $10 to $30. Check out my shop page.
Getting Started With Food Photography
Why is food photography so important for food bloggers?
The photos of your recipes and dishes is what will get your blog posts spread and shared online.
Think Pinterest, good looking photos get pinned.
And there are a bunch of food sharing and submission websites such as Tastespotting and Food Gawker that will bring a lot of traffic to your food blog – but they only accept submissions with great photographs.
You don't need to be a professional or have professional equipment to take great food photographs. You just need to follow a few simple rules, such as getting the lighting right, use a good looking background, and create a setting. I walk through these simple rules in depth in my post here: Food Photography Tips and Tricks Guide For Beginners: Step by Step.
The Best Camera for Food Bloggers
Start off with what you have, say a phone camera or a point and shoot.
Once you get going you'll want to invest in a DSLR. You'll have more control over the camera settings, and you'll get great depth of field (when the background is nice and blurry).
The photos you get from these DSLR cameras are the photos that get accepted to food websites, get shared, and bring traffic to your blog.
For more on cameras and equipment, check out my photography for beginner food bloggers post.
Photo Editing Software
Once you have taken photos of your dishes, you'll need to get them on your computer and edit them a bit before posting them onto your blog. For beginners I would recommend getting your hands on a copy of Photoshop.
Lightroom is another popular photo editing tool. But with Photoshop you can also create Pinterest style graphics for your blog post, which will help get your recipes shared. So get a copy of Photoshop, and Youtube has tons of tutorials on how to get started.
Cost: Start with a monthly subscription instead of buying the software. You can get a monthly subscription for Photoshop on Amazon for $7.49 a month.
Bonus: Join A Food Blogger Community
The best and fastest way to grow a successful food blog is to surround yourself with people who are doing the same thing. People who have done it before and can help you grow your blog. That's why membership sites are so powerful.
For food bloggers, you have Food Blogger Pro, which is run by the good people from the popular food blog Pinch of Yum. Not only do you have a community of food bloggers on the forum, but you also get a wealth of information through the tutorials they create. Everything from how to use social media, to advanced food photography tutorials are included in the membership.
Intermediate AKA The Manager
By now your blog is up and running, you've been posting consistently, and have started building a following.
You will get to a point when your traffic starts growing and you will need to upgrade your website to keep your blog running smoothly. And it will be time to start thinking about how you will develop your food blog as a business.
Backup
Once you have a number of posts published, you are going to want to backup your website just in case something goes wrong. WordPress have their own backup service called VaultPress.
Cost: VaultPress monthly subscription starts at $9.
Building a List
Now that you have a good number of people visiting your blog everyday and following you on social media, you'll want to build your own emailing list.
An emailing list is going to be one of your most powerful tools. This is because you own it, and you have direct communication with your followers. A lot gets lost in the noise of Facebook and Pinterest. But your email list is direct and one on one.
Cost: Aweber is what I would recommend for building your email list. They have plans starting from $19 a month.
At this point you'll be making money with your food blog. Moving forward you'll need to start thinking about 2 things: "how can I reduce the time I spend on things other than creating blog posts" and "what products can I develop for my audience". This is when you start getting to the CEO level.
Advanced AKA The CEO
Welcome to CEO level. The first thing to do again is to upgrade your website so that it keeps running smoothly. Then start focusing on building a team and developing products or services.
Advanced Web Hosting
Once you are hitting over 2,000 – 3,000 visitors a day, you'll want to upgrade to a more powerful website host.
Cost: Plans from MediaTemple hosting can range from $55 to $1,000++ depending on your traffic levels
Building a Team
Your time is too valuable to be grinding away on Pinterest, posting to Facebook, or uploading your posts to your blog (which can take some time with all the formatting and linking). So why not hire a virtual assistant to handle these tasks for you.
I was able to reduce my workload by 50% by hiring a virtual assistant from the Philippines. He mostly did graphic design work and uploaded my posts for me.
Cost: On the lower end a Virtual Assistant can cost you $250 a month, and they will work full time, 40 hours a week. More experienced and better assistance will cost around $350 to $450++ a month. I found my assistant on Online Jobs Philippines. There is a monthly fee to use OnlineJobs.ph, but what I do is pay for the month which is $49, and then cancel my subscription once I've found someone (since all of the work is done through email). For more info on hiring someone for your food blog, have a look at my post here: How To Hire A Virtual Assistant For Your Food Blog: For $250 a Month (Full Time).
Those are the tools you'll need to start and grow your food blog. Getting you from intern to big boss CEO. For more food blogging posts, check out my Art of Food Blogging section on the home page.